The Accommodations At Brookside Cartersville
Elevate living with exceptional accommodations at Brookside.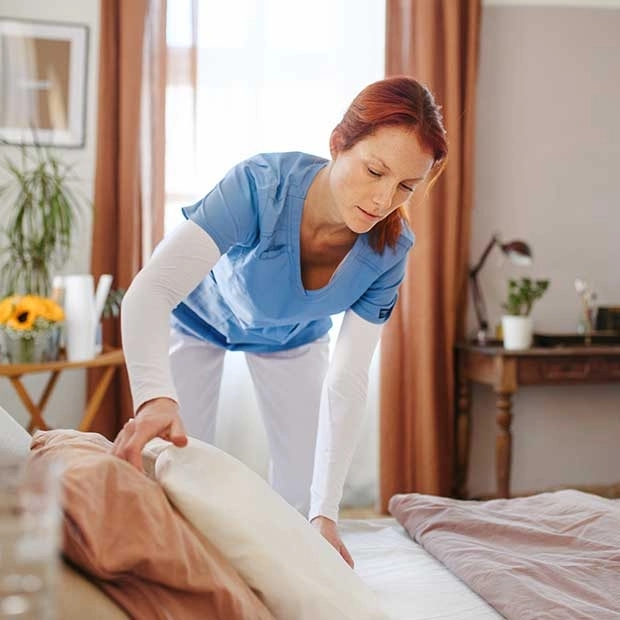 At Brookside Cartersville, we prioritize exceptional accommodations as part of our commitment to excellence. We understand the value of personalization, which is why we offer two options for residents' rooms. They can bring their own treasured furnishings and decorations to create a unique and cherished space, or they can opt for our fully furnished rooms that are thoughtfully designed for exceptional comfort and tailored to their specific needs.
Although not prominently advertised, we recognize the significance of technology in enhancing the well-being of our residents. At Brookside Cartersville, each room is equipped with cable TV and Wi-Fi, offering opportunities for entertainment and private communication with family members. Additionally, we have implemented an emergency call system to ensure rapid staff response in case of any emergencies. These technological provisions further contribute to the safety, connectivity, and overall satisfaction of our residents.
State-of-the-Art Fire Security System - Safety Is Our Top Priority
At Brookside Cartersville Senior Living, the safety of our residents is paramount, and we leave no room for compromise. To safeguard each individual from fire hazards, we have implemented a cutting-edge Fire Security System. This state-of-the-art system undergoes regular monitoring and meticulous maintenance, guaranteeing its constant effectiveness and reliability. Rest assured that your loved one resides in a secure and protected environment at Brookside Cartersville, providing you with peace of mind.
Emergency Call System - Designed for Convenience And Peace Of Mind
At Brookside Cartersville, the safety and security of your loved one are of utmost importance to us. We understand the value of an emergency call system in providing peace of mind for both residents and their families. Our reliable system ensures swift access to a dedicated Brookside Cartersville staff member in the event of a medical issue or fall. With a simple press of a button, your loved one can quickly alert our staff and convey the necessary information about the emergency.